What Have Local Developers Been Doing Lately
By Andrew Cornish
A look around the Town and County shows commercial construction is underway again in Teton County – cranes indicating that some of these are larger projects. However, the construction of larger buildings may become increasingly difficult as only a few lots remain with entitlements for the Planned Mix Use Development provision of Jackson's Land Development Regulations – a provision that was recently removed as an option for future developments.   Below is a summary of some of projects that have been ongoing in Jackson Hole: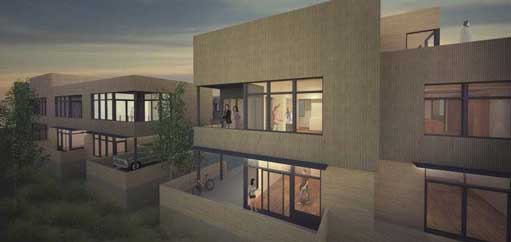 A New Marriott Hotel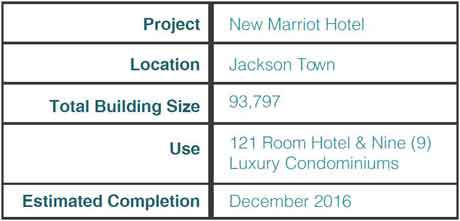 A New Marriott Hotel is located on Simpson Avenue just west of the Community Center for the Arts. The development was originally approved in 2002 as part of an 18-lot master plan for 289,471 square feet of building area which used the now-eliminated Planned Mix-Use Development Option (PMUD) of the Jackson Land Development Regulations. The six-lot site totaling 45,000 square feet was purchased by the current developer in December of 2014. Without the PMUD, the maximum density of development would have been a Floor Area Ratio (FAR) of 1.30. This would have yielded a maximum building size of 58,500 square feet (45,000 x 1.3). However, the PMUD entitlement has allowed for the construction of 93,797 square feet of building area in this location, with 73,000 square feet of this area being dedicated to 121 guest rooms and over 16,000 square feet being dedicated to nine for-sale, top-floor luxury condominiums. All totaled, this building equates to an FAR of over 2.05 on a six-lot site.
A New Office and Retail Building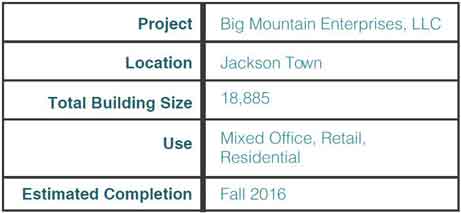 A New Office and Retail Building is being built at 115 E. Pearl Avenue, across the street and to the west of the Jackson Town Hall. This development continues the trend noted in the Marriott construction of developers taking advantage of expiring PMUD entitlements. This 7,500 square foot lot was developed to a Floor Area Ratio (FAR) of 1.89 when including the affordable housing requirement, a figure significantly greater than the now-allowed 1.3 FAR. When completed in the fall of 2016, this building will total 13,725 square feet of above-grade area allocated between retail and office uses on the first two floors and residential units on the third floor. An additional 5,130 of below grade area will be dedicated for a fitness area and storage use. The market residential units are designed to be between 1,100 and 1,500 square feet, with a deed-restricted employee unit of less than 500 square feet. All of these units are being leased rather than sold initially. The owner / developer plans to lease the commercial space in the property at annual lease rates of between $40 (ground floor retail) and $32 per square foot (NNN).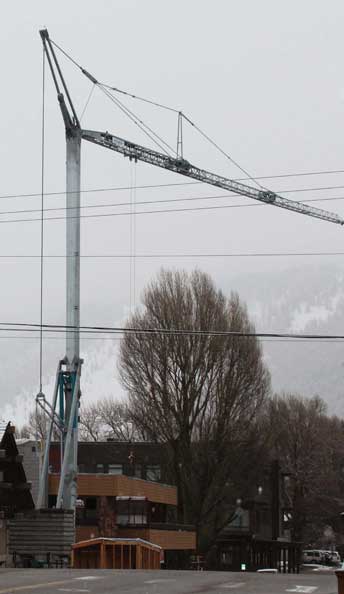 A 15-Unit Work-Live Development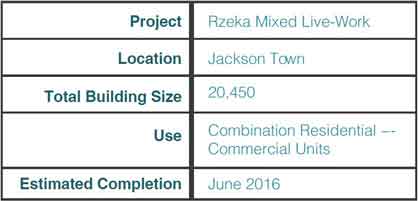 A 15-Unit Work-Live Development is being built at 1200 S. Highway 89 east of S. Hwy 89 and west of the Hidden Ranch Subdivision. A work-live development has both commercial and residential space, but can only be resided in by the occupant of the commercial space (cannot be leased to separate residential and commercial tenants).  The site of this development has a gross acreage of 44,135 square feet with some loss of usable area to Flat Creek.  Through the interpretation of the residential area as being targeted as workforce housing, a total allowed building area to 20,450 was constructed on this site. The units range in size between 1,120 and 2,000 square feet, with the range of 1,120 to 1,540 being most prevalent. An interview with a source representing the development indicated that a price of $500 per square foot would be targeted.
The Caldera House Lodging and Club Facility
The Caldera House Lodging and Club Facility is being built in Teton Village next to the Tram Dock at the Jackson Hole Mountain Resort. Development in Teton Village is unique in that, in addition to the more typical dimensional limitations of floor area ratio, height and setbacks, Teton Village commercial lots are additionally governed by a master plan that has provided each commercial lot with a dedicated amount of lodging and commercial use.
The Caldera House site had been allocated 74 lodging APO's and 13,359 square feet of commercial area which allowed for the construction of a 53,228 square foot building on a 21,344 square foot lot (Teton Village FAR's are the highest in Teton County allowing for a building that is 2.5 times the lot square footage). The Caldera House was designed as an upscale dining and ski club facility, with amenities including a state-of-the-art locker room, valet parking and concierge service, high-end spa facilities, and a private après-ski lounge. Joining the club will cost $100,000.   The building will also be allocated into eight private residences ranging in size between 1,500 and 5,000 square feet that will be available as rentals, as well as restaurant and retail space that will be open to the public.