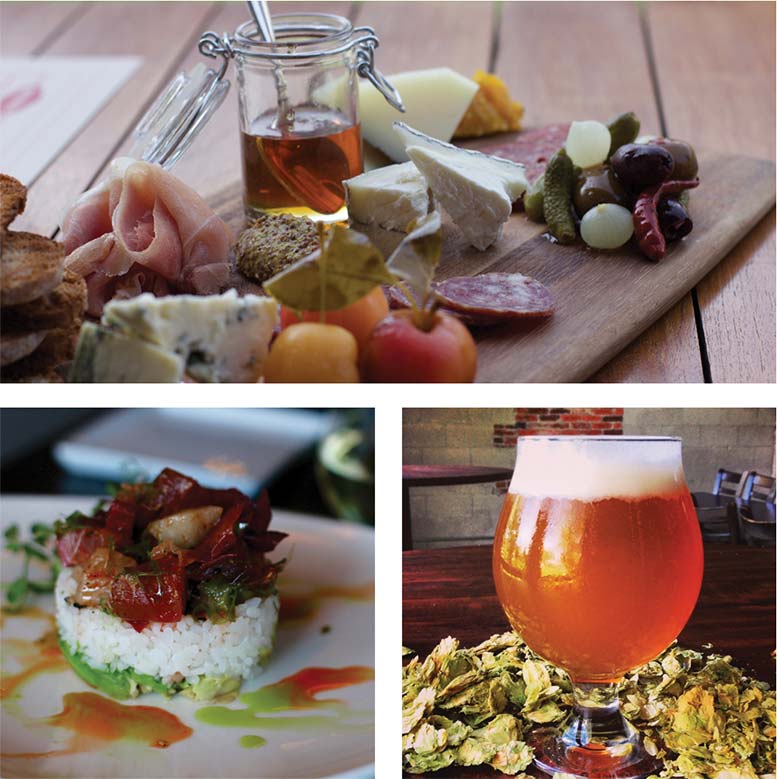 Local favorites for relaxing after a long, or short, day on the ski hill
By Annie Fenn, M.D. & Keith Cozzens
The dictionary defines "après-ski" as the social activities that follow a day of skiing. Around here, après is used more commonly as a verb. Although I've been getting out to the Village to ski quite a bit this year, I haven't had the time to stay and après most days. So I decided it was time for a crash course in where to eat, drink and relax after the lifts shut down.
Back in 1994 when I purchased my first Jackson Hole Mountain Resort season pass, deciding where to après was easy. Most ski days ended at the Mangy Moose or the beloved Village Café (RIP). My tribe usually favored the VC for the ski-bum vibe, the New York-style slices of pizza and the cheap draft beers. And yes, doing shots in unison on the shot ski was usually part of the fun.
Fast-forward a few years — the VC has shut down, but the mountain has exploded with options for prolonging the feeling of a great ski day. The Moose is still a lot of fun, but now it's always packed to the rafters with tourists. As are a lot of our favorite watering holes: Teton Thai, I'll be back in the off-season. And my après priorities have changed — gone are the days of lining up at the shot ski and finding the cheapest chicken wings. I want a decent glass of wine, some healthy-ish food and somewhere with a relaxed vibe to hang out with my ski buddies.
Most civilized après-ski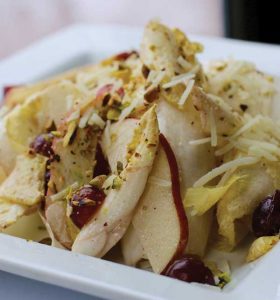 If great food and a mellow atmosphere are amongst your après priorities, duck into Il Villaggio Osteria between 3 and 5 p.m. Normally packed during lunch and dinner service, Osteria is an oasis of calm at this time. Order a basil martini or my new favorite wine by the glass — Don Cosimo Catarratto, a white varietal from Sicily that's crisp and dry with lemony notes. It pairs perfectly with the Tuna Tartare and a platter of housemade, imported and local cheeses. There are the ubiquitous après-ski chicken wings (calabrese-spiced) on the menu, but Chef Serge Smith also offers healthy-ish small plates like the charred octopus with frisee and the crisp, bitter and sweet endive salad. A plate of what is considered the valley's best meatballs is always a good choice, especially when it comes with hand-pulled mozzarella and Osteria's famous pomodoro sauce. Actually, just give me a Funghi Pizza, with three types of wild mushrooms, and a bowl of the Oven-Roasted Olives and I'll be happy.
Après-sushi? Yes, please.
For the best deals on sushi, hop on the START bus (because we all know that après and driving don't mix) to Sudachi and snag a seat at the bar between 5 and 6 p.m. Ask for the happy hour menu and enjoy half off sushi and drinks, $3 hand rolls and $8 bowls of ramen. Or check out the Japanese pub-style Izakaya menu offered Saturday through Monday. Big appetites will love the Steamed Buns, topped with crispy pork belly, hoisin sauce and cucumber salad. The Poke Salad has completely won me over as the perfect après-ski dish: a layered tower of avocado, steamed rice, ogo, mixed greens and furikake, all topped with a generous serving of expertly prepared sashimi.
Après with the kids
When my little rippers were younger, finding a kid-friendly place to après was paramount. Cranky and on the verge of collapse from all the junk food they ate at ski school (thankfully, I hear the food has gotten much better), the kids' après session was all about getting a glass of wine in my hand and good food in their bellies. Now parents have really great options for après-ing with the little ones.
Head to the Alpenhof Bistro and order them a pot of Alpen Fondue. Kids of all ages love plunging skewers of apples and bread into melty cheese, and there's plenty of room to spread out with a big group. Or pile the kids up in the designated playroom at the Spur in Teton Mountain Lodge. Take turns with your friends supervising their chill-out time on the cushions noshing on nachos while you sip on the famous (best in the valley?) Spur Bacon Bloody Mary and enjoy a plate of Mushroom Toast — roasted mushrooms piled onto toasted potato bread topped with melted cheese and truffle vinaigrette.
Go old-school at Stiegler's
It's always a treat to slip into a booth at the Copper Bar in Stiegler's Austrian Restaurant and take in the old-school atmosphere. A fire is always crackling in the fireplace that separates the bar from the dining room, and owner Peter Stiegler greets you as if you were a long-lost friend. Photos of Peter's ski racing and Olympic gold medalist brother Pepi adorn the walls near the bar packed with locals still in their ski pants. Ask the bartender about the selection of Austrian wines and try something you've never had before. Order off the bar menu, starting with a cast-iron skillet of Chippolota Pfandl — 10 mini veal bratwurst in puff pastry served with haus senf, the addictive house mustard. The Burgermeister is a splurge at $19, but it's one of Jackson's best burgers made from beef tenderloin ground in-house, topped with bacon and Gruyère cheese, and it easily feeds two people. Don't skip dessert: I can't go to Stiegler's without getting the Apfel Strudel with vanilla rum sauce, as good as any strudel I had while dining in huts in the Dolomites.
Still miss the VC?
Missing that special après-ski vibe you could only find at the VC? If you call yourself a ski bum, then you probably already know about Bodega. I've been popping into Bodega a few times a week ever since Fine Dining Restaurant Group took over Teton Village's only gas station/convenience store and turned it into a wine shop, butcher shop, gourmet take-away and bar. With a killer après-ski special of a draught beer and brat, Bodega has become THE place to keep that happy powder day feeling going; the tiny five-seat bar is constantly full and spills out into the parking lot. Ask manager Jimmy Fraser to pour you one of their ever-changing flavors of sloshies, like the Greyhound — made with freshly squeezed grapefruit juice. Feeling nostalgic (and daring)? Ask if the VC's old classic is on tap: The Trendy Bitch is a Red Bull, Black Velvet, orange soda and whiskey drink that is not for the faint of heart.
Bodega may be the only ski-bum hangout with an accomplished chef at the helm of the food service — Chef Joel Tate heads up Fine Dining's butcher shop and charcuterie, and is usually on hand to personally fix up your housemade bratwurst sandwich. Tate's chicken shack adjacent to Bodega serves six different fried chicken sandwiches, bratwurst corn dogs, tater tots and other snacks to satisfy après-ski appetites. Served in a paper bag and priced under $10 each, the made-to-order snacks coming out of Tate's food truck are the stuff of ski-bum dreams. (Hint: Get the Fried Chicken Banh Mi sandwich.)
Perks of après-ing at Bodega: getting to take home Tate's fabulous sausages from his Bovine and Swine sausage division. I highly recommend the bison mozzarella, jalapeño-cheddar, beet and wild rice, the Reuben, and those little maple and sage breakfast links. Let's face it — as much as we all miss that classic basement bar next to the tram, we never had food this good at the VC.
This story was originally published in Planet Jackson Hole, www.planetjh.com.
---
Rounding Out the Choices
By Keith Cozzens
The Handle Bar
Four Seasons Resort Jackson Hole
With a diverse selection of après-ski spots available in Teton Village, The Handle Bar at Four Seasons Resort Jackson Hole offers a unique balance of après fare with a modern twist, an expansive wine, beer and cocktail menu, and a high-energy atmosphere nestled at the base of Jackson Hole Mountain Resort — a snowball's throw from the Teewinot lift.
Established in 2012, The Handle Bar puts out the vibe of an American pub hall, but is much more than that. With an enjoyable interior layout that makes it great for everything from watching sporting events to grabbing a booth with the family, and an outdoor patio heated by a fire wall and fire pits with unbeatable views of the mountain, The Handle Bar welcomes the 2016-17 winter season with new offerings and tried-and-true favorites.
New Executive Chef Michael Lishchynsky oversees the culinary creations and comes to the property via the Four Seasons Boston. When it comes to après food, look no further than the "bar snacks." With one-of-a-kind items — like Fried Chicken Cracklin' with Handle Bar hot sauce and rose honey; Umami Pop – Sriracha popcorn with kimchi and furikake; and Chicken Liver Pate with crab apple mostarda, pickles and whole-grain mustard — you might as well settle in for a few hours. But, whatever you do, leave some room for the famous Elk Chili Nachos, a pure crowd-pleaser since day one with gaujillo peppers, bitter chocolate and cumin crema. Wash all of these favorites (and others) down with a Boot (32 oz. beer) or any of their hand-crafted cocktails. And for kids — and the kid in you — new this winter is the tableside S'mores dessert.
A DJ will be spinning vinyl on the patio every Saturday during après starting in January with weather permitting. "We want to create a little party on the patio to celebrate the ski season every Saturday. During these, we will have different drinks featured and even the occasional ice luge," says Jose Gonzalez, GM at The Handle Bar. Also, every other Thursday a select brew will be featured for $3. If you order it, you can participate in a raffle to win everything from apparel to dinner gift certificates to skis and more. And, if one is feeling lucky, you can leave your fate to the dice with Shred The Gnar. "You roll three dice and each corresponds to a spirit, chaser and bar back — you never know what you might get," Gonzalez says.
Après at The Handle Bar runs from 3 to 5 p.m. daily.
Teton Pines | Village Road
When you think of places to relax for après after a day on the hill, the immediate choices that come to mind are at the base of Jackson Hole Mountain Resort. But, if you're seeking a top-notch après experience off the beaten path and only a few miles down the Village Road, there's a little gem called the Clubhouse at Teton Pines that shouldn't be overlooked. With half-priced drinks and an après menu with all dishes under $9, it's worth the effort.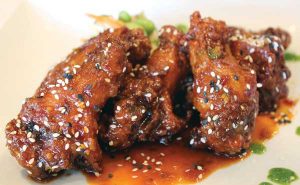 Beautifully remodeled this spring with new décor throughout the restaurant, lounge and lobby, complete with a stacked stone fireplace, the Pines serves up instant relaxation, as well as some of the finest après food and drinks. Take the Honey Ginger Wings, a perfect combo of sweet and spicy, or the Meatball Splash — a delicious, longtime recipe of Chef Joe McGarry, who's been at the Pines since 1999 — for instance, and you're on your way to a savory, festive après. Try their housemade chips, too, which have been a fan favorite for years.
On the liquid side, the Pines offers a diverse selection of beers and wine, as well as signature cocktails including their housed-infused Huckleberry Vodka Martini, Colter's Run Bourbon and warm apple cider, and freshly muddled margaritas and mojitos. "Our friendly bartenders have been with us season after season and strive to provide the best service and experience in the valley while making you feel right at home. Our new menu is absolutely delicious, and once you've enjoyed après at Teton Pines, it'll be your new 'secret' spot," says Amy Bickley, Director of Membership & Communications at Teton Pines.
Winter happy hour and après is Wed.-Sat. from 4 to 6 p.m.
Q Roadhouse & Brewing Co. | Village Road
Location. In-house brews. Warm, lively atmosphere. Gastropub menu. These are just a few reasons why hitting Q Roadhouse & Brewing Co. for après this winter would be in your best interest.
Conveniently located on the Village Road about 5 miles from Jackson Hole Mountain Resort, the Q has something for everyone. Families can enjoy sitting by the fire in the main dining area, while smaller groups can saddle up to the bar to catch the latest game or watch the knowledgeable bartenders pour their in-house craft brew. With a great selection of Roadhouse and other beers, a robust cocktail program and notable wines by the glass, the Q experience is simply comfortable.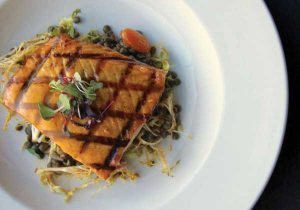 With easy-to-share menu items featuring traditional comfort food from around the world like Fried Pickles, Carnitas Tacos and Shrimp & Grits, the tag-team culinary creations of chefs Matty Melehes and Jesse Rezin bring to the front the gastropub style with a measure of authentic Wyoming. Oh, and don't forget the peanuts — eat as many as you want and just toss the shells on the floor.
"In everything we do, we work hard to make sure each and every guest who enters our doors is entering an extension of our homes. And, we strive to ensure each guest leaves having had an overall fantastic time and can't wait to return," says Gavin Fine, co-owner of Fine Dining Restaurant Group, which operates six unique dining establishments in the valley, plus catering.
The Q will feature nightly food and drink specials with happy hour and après from 5 to 6 p.m.
Malakas | Teton Village
If you're looking for a fun, casual and family friendly atmosphere for après to kick your heels up after a long day of exploring the mountain, Malakas in Teton Village might be your go-to. The new gathering spot is located at the base of Jackson Hole Mountain Resort on the ground level of the Inn at Jackson Hole. Formerly the site of the legendary Village Café (VC), Malakas owner and valley resident Jerry Fasy has enhanced and updated the vibe, while keeping the environment attractive and the goods affordable.
"We hope families come and join us. We want to run a place that is conducive to keeping the hotel guests happy, while balancing it as a fun spot for locals. The only similarities to the VC are that we're in their old location and sell pizza," says Fasy, who also owns the popular Cutty's Bar & Grill in town.
Opened in July 2016, Fasy and his crew renovated Malakas with new tables and décor, added six new TVs and ripped thousands of stickers off the walls to give the place a new feel. Offering après-perfect appetizers, salads and arguably some of the best pizza in the valley, this winter — its first — Malakas is an ideal option if you're looking to get away from the traffic at the resort's busy base area or are on the hunt for a bar to watch any sporting event (they have just about every sports package available). So, if you're in search of hunkering down to catch a game with a varied selection of beers and house cocktails, and a solid slice of pizza or memorable cheesesteak, put Malakas on the top of your après list and tell your friends.
Malakas will offer daily après specials during the season.