GTMF Celebrates Ten Years With Director Donald Runnicles
By Brittany Laughlin
Each summer since 1962, the nation's finest orchestral musicians gather in Jackson Hole to take part in the Grand Teton Music Festival. The seven-week classical music festival presents more than 40 events throughout Jackson Hole with concerts taking place in its acoustically acclaimed concert hall in Teton Village and, in an increasing amount, in the town of Jackson. This year marks the tenth anniversary of world-renowned conductor Donald Runnicles who serves as the Festival's Music Director. Scottish-born and Berlin-based, Donald embodies the Jackson Hole lifestyle—biking to concerts, hiking with his family, and fitting in pre-rehearsal tennis matches.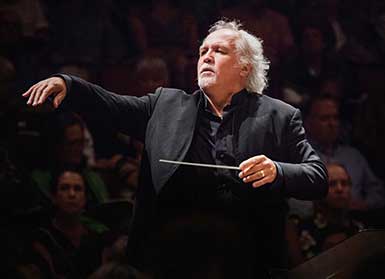 To celebrate his important milestone, which the Festival has dubbed "Ten Years in the Tetons," GTMF is offering up a line-up of classical music's most influential artists, performing engaging repertoire throughout Jackson Hole.
The festivities begin July 4th with the annual Patriotic Pops concert. A community tradition, Maestro Runnicles conducts American favorites for his adopted country. Later in the week, from his homeland, Maestro Runnicles conducts the National Collegiate Chorale of Scotland for a monumental performance of Beethoven's 9th Symphony with the Festival Orchestra. Maestro Runnicles will also take the stage as pianist in an intimate concert with mezzo-soprano Kelley O'Connor and iconic cellist Lynn Harrell to perform some of his favorite works.
The Festival's annual gala concert featuring violin superstar Joshua Bell is July 13th. The must-see event of the season, Mr. Bell joins the elite players of the Festival Orchestra under the baton of Maestro Runnicles for a concert including "Summer" from Vivaldi's Four Seasons among other beloved violin concertos from Saint-Saëns and Argentinian composer Piazzolla. Internationally hailed as one of the most important artists and a frequenter on the world's most prestigious stages, Joshua Bell is the pinnacle of the 2016 season.
The entire season presents the best and brightest of the classical music world, including cellist Johannes Moser who makes his GTMF debut with performance of Tchaikovsky's Variations on a Rococo Theme (July 15th & 16th), a piece that earned him the top prize at the Tchaikovsky Competition. Violinist Nicola Benedetti also makes her first appearance as part of a week-long residency. Despite performing three concerts (including one featuring the virtuosic Violin Concerto by the notable Hollywood film composer, Erich Korngold) audiences will be left wanting more.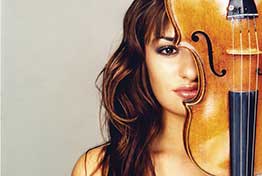 This season, the Festival continues its mission of bringing great music to venues throughout Jackson Hole. In addition to concerts at Walk Festival Hall in Teton Village, the Festival offers Free Family concerts at the Teton County Library, a gallery concert featuring the dynamic violinist Simone Porter at Heather James Fine Art, as well an exciting performance at the Pink Garter Theatre with classical crossover trio Time for Three. The classically trained troupe performs a range of music spanning from Beethoven and Brahms to popular hits from the Beatles, Kanye West, and Justin Timberlake. Only in Jackson Hole can you kick back, sip a cocktail, and listen to a world-class performance in a club.
With $15 Day-Of Rush tickets available for most concerts and free Inside the Music and Family concerts, GTMF's Ten Years in the Tetons offers world-class entertainment and a display of breath-taking talent at a steal. Join in on the celebration July 4th through August 20th.
---
In celebration of Music Director Donald Runnicles' Ten Years in the Tetons, GTMF presents an unprecedented summer line-up that delights at each and every opportunity.
Here are the some of the seasons best must-see moments:
Beethoven's Symphony No. 9
Friday, July 8th | 8PM
Saturday, July 9th | 6PM
Pianist Jonathan Biss & Beethoven
Wednesday, August 10th | 7PM
Friday, August 12th | 8PM
Saturday, August 13th | 6PM
Gala Concert with Violin
Superstar Joshua Bell
Wednesday, July 13th | 7PM
Classical Crossover Trio
Time for Three
Wednesday, July 20th | 8PM
Masterful Violinist Nicola Benedetti
Thursday, July 21st | 8PM
Friday, July 22nd | 8PM
Saturday, July 23rd | 6PM
Tickets and information are available at GTMF.ORG
---