Jackson Hole homes for sale up to $750,000. What is currently available for real estate shoppers wanting to spend up to $750,000 on a single-family or attached home in Jackson Hole?  – And how this has changed over the past 10 years?
This entry examines the available selection of housing opportunities in Jackson Hole, WY and surrounding areas for real estate shoppers looking to spend less than $750,000 on a single-family or attached home. To do this, I have first provided a brief history of what market participants in this price range have historically "gotten for their dollar" in terms of home size, and then compared to the available inventory.
Historical Real Estate Purchasing Power $750,000 or Less
Review of the historical data track reasonably well with intuition, in that the fact that average size of a single-family residence in Jackson, WY decreased during the appreciating period of 2004 through 2006, and then began to increase as buyer's dollars went further in the softening market that existed through 2010. As would be expected, the strengthening of real estate market prices that were observed beginning in the second quarter of 2011 began another cycle of declining average home size for the $750,000-or-less Jackson Hole home shopper (an exception to this being 2014 data, presumably due to the limited sample size of only 19 sales year to date).  A similar, but less pronounced trend is noted for attached homes in this price range.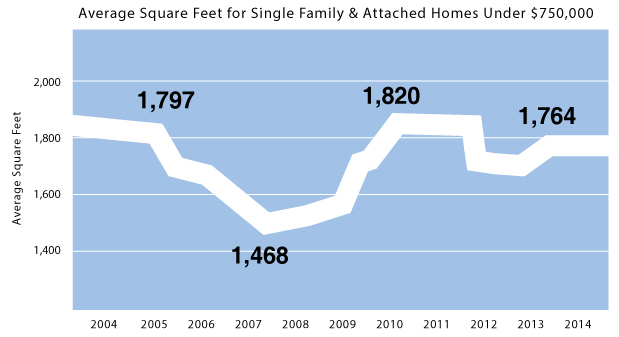 Average square feet & total number of sales for a Single-Family Home under $750,000 


Average square feet & total number of sales for an Attached Home under $750,000 


A majority of both single-family and attached homes sales have been located in the Jackson and South of Jackson market areas (areas more oriented to year round local population), with the resort condominiums at Teton Village and Jackson Hole Golf and Tennis areas comprising a smaller but noticeable allotment of sales in this grouping as well.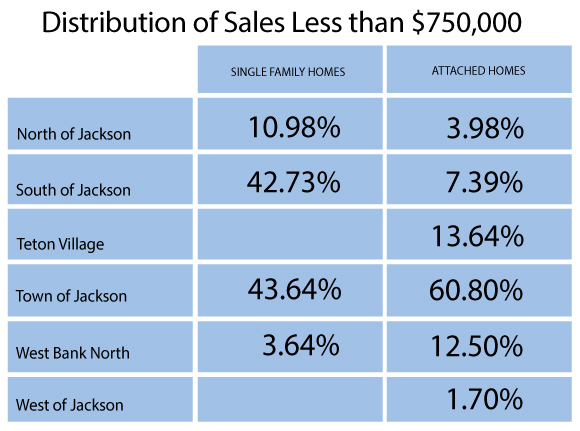 Current availability for Jackson Hole single-family and attached homes
The two links provided below provide current inventory of actively listed single-family homes and attached homes with listing prices up to $7500,000. Notably, the available inventory for these properties is continuing to trend as would be expected in a market characterized by tighten inventory, with the average square footage of single-family properties being approximately 1,630 with 20 properties available and  attached homes offering 56 available properties for sale with an average size approximating 1,080 square
Click to view single-family homes for sale in the Jackson Hole area
Click to view attached homes for sale in the Jackson Hole area