Get to know local restaurateur Gavin Fine
By Keith I. Cozzens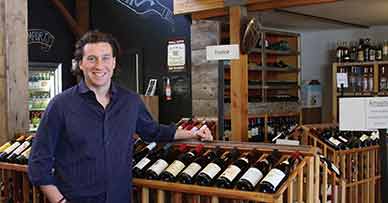 From an early age, Jackson Hole restaurateur, entrepreneur, and co-founder of the Fine Dining Restaurant Group, Gavin Fine, was immersed in the culinary world. Some might say it was his calling.
Chicago & The Passion For Food
Growing up in Chicago in the 1980s and 90s, Gavin was a typical kid. What wasn't so typical, though, was his penchant for food and cooking, two things that surrounded him throughout his childhood in the city and engrained at home by his parents – mainly his mom.
"When I was eight or nine years old, my mom took me to 'Mommy & Me' cooking classes and I was the only boy there. It wasn't cool for guys back then to be a cook and in the kitchen like it is today, " says Gavin. "As I got older and a teenager, I was a six-foot dude who couldn't dunk. I knew I wasn't going to play basketball, so the whole restaurant thing seemed very interesting."
At the core of Gavin's adolescence was a strong sense of family. Gavin's dad, Dan, grew up in Farmingdale, N.Y. on Long Island and was a rep for an electronics company. His mom, Bonnie, was from Queens, N.Y., and was a talented cook. Family meals were very important, as were chores. And, when their busy schedules didn't allow for a family sit-down at home, the Fine family dined out – at places like Chicago's Athenian Room, where Gavin fondly remembers spending hundreds of days as a kid, where"they had the best roast chicken, fries, and gyros hands down."
The travels and vacations the family went on were added cultural and culinary experiences that helped shape and sharpen Gavin's interest, love, and intimacy with the food world. On trips, Bonnie made her boys keep a journal, and every one of Gavin's entries was, yes, about food.
"I could tell you about the best fries in Washington, D.C., or the best burger here, or such and such wherever we were – I liked to eat a lot," he says."
With a sturdy foundation for food set, it wasn't until Gavin met and worked for another Chicago idol of his Richard Melman – the owner of "Lettuce Entertain You" – before college that transformed his life and widened his view into the restaurant business. A restaurant group pioneer, Melman's innovation, a fusion of food and humor, have remained with Gavin to this day.
Jackson & The Search For The Food Experience
After graduating from Cornell's Hotel and Restaurant Management School in 1996 Gavin felt the draw of the mountains, fresh air, and less crowds and moved west to Jackson.
Coincidently, one of Gavin's good friends from growing up in Chicago – Ethan Steinberg – moved out to Jackson that same summer and the two reconnected and lived together for five-plus years.
As many do in Jackson to make ends meet, Gavin worked a few jobs, but during his first four years he was firmly planted at one of the valley's popular fine dining establishments, the Snake River Grill. Gavin eventfully worked almost every position there. The experience proved to be invaluable, and he met his future business partner, Roger Freedman there.
The itch to learn and experience more led Gavin out of Jackson and into the centuries-old culinary hot spots of Italy and France. Abroad, he absorbed the rich methods, history, and culture of food and drink working at prestigious wineries and vineyards – and there he was first exposed to the European Bistro culture that inspired ideas he would bring back to Jackson.
Furthering his research of Bistros, Gavin toured New York City's famous haunts – like Balthazar in SoHo – that helped launch the Bistro culture in the U.S. Gavin's wheels were now spinning with concepts of what the Jackson dining scene was missing.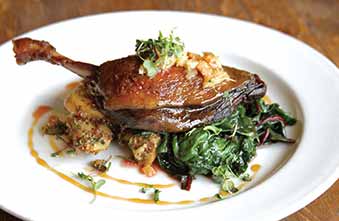 With the late-90s economic boom, there was a void in the restaurant scene in Jackson between high-end cuisine and fast food – and Gavin wanted to change that. On July 17, 2001, he opened his first of six restaurants with the classic Rendezvous Bistro.
"Everything was under $20 on the menu, and we had 100 wines under $30. We were amazingly successful right off the bat," says Gavin. "The goal was to take the intimidation factor away for younger people going out and offer great food and a great experience Billionairs were mixed with ski bums. Everyone got the same service."
Putting The Fine In Dining
With the success of the "Bistro" running high, a few years later Gavin and Freedman started the Fine Dining Restaurant Group.
"Steinberg came up with the name, and at first it was a joke, but it just stuck and it works," jokes Gavin.
Seeing opportunity to fill a needed gap in the Jackson dining experience, Gavin and Freedman established a variety of restaurants and a catering company in the valley that all serve their own unique purpose and culinary focus – Q Roadhouse (2006), Bistro Catering, Il Villaggio Osteria (2008), The Kitchen (2011), Bin22 (2013), and Bodega (2015). The family of restaurants serve are a cornerstone in the Jackson community, and, despite each location possessing its special vibe, one mainstay holds true: you'll be treated like family.
"We have core standards that translate across every restaurant, and we want our personality to come out. We approach what we do as welcoming people into our home, and that's how we teach it. When we open the doors, we hope people feel that warmth and want to come back – that's an uncompromising theme here," says Gavin.
In 2013, Gavin was awarded the Teton Board of Realtors' Business Person of the Year. With roots growing deeper in the valley each year, Gavin's young days at 'Mommy & Me,' his global travels in pursuit of culinary enrichment, and an unwavering entrepreneurial mindset, have helped shape him as a person and create dining experiences in Jackson that wouldn't have existed without his – and his colleagues' – visions.
"I'm constantly trying to look at what the needs are here in the valley from a dining and culinary experience." says Gavin. "I'm super proud of the people and restaurants in the valley here doing an amazing job."
No Slowing Down
This year, the Bistro celebrates its 15-year anniversary – a milestone for any restaurant. And, Gavin's a family man now too, with wife Lea, and two boys Bode (7), and Jake (5).
Perfecting the work-life balance is an art – and the successful restaurateur seems to have mastered that – but there's no sign of slowing down. Gavin and his team are currently constructing a 10,000-square-foot facility that will house Roadhouse beer brewing, Cream + Sugar artisan ice cream, and The Blind Butcher – slated to be the state's first USDA plant where all meat is sourced locally and regionally. All will be distributed nationally starting in 2017.
"Balancing your life is key, and if you're out of balance, well, you're out of balance," says Gavin. "I love challenges and I really try and connect with every employee and customer the same way I did 15 years ago. The Jackson food scene has come a remarkably long way, and I'm just excited to be a part of it."