Condominium Hotel Properties Show Growth In Value & Income Generation
By Andrew Cornish
Condominiums have long been a way to provide Teton County market participants an opportunity to own property without the responsibilities associated with detached, single-family homes.
In 2001, the condominium concept was expanded for the Teton Village market with the advent of the first condominium hotel (condo-tel) property. The condo-tel form of ownership combines the attributes of income from a hostelry front desk with lifestyle benefits such as ski storage services, discounted dining and the prospect of being greeted by name as you check into real estate which you own. Add to these benefits the recent trends of increasing income and unit appreciation, and it is no wonder condo-tels have become an attractive form of property ownership to many.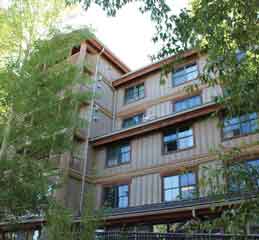 Admittedly, condominium hotel ownership may not be for everyone, as property access typically closes for a brief period during the shoulder seasons to allow for cleaning and owners may be financially incentivized to make their units available for rental for a minimum number of days each season. However, to many, these points are less significant than the potential for income generation and property appreciation.
Notably, since the stabilization of the market post recession, owners of condo-tel units have received both increased income and property value. Observing sales from Hotel Terra and Teton Mountain Lodge properties, it is noted that the 2015 average sale price per square foot of these units is over 73% greater than their 2012 post-recession low. While review of the data underlying this measure indicates that a small sample size and the recent prevalence of larger upper-floor units has contributed to this growth being an overly-optimistic gauge, the indication of a return to vibrancy for this section of the Teton Village housing market is solid by any measure. Not surprisingly, a positive relationship between value and rental income level is noted when observing that the 32% growth in price per square foot of this condo-tel sample since 2013 roughly parallels the approximately 29% growth in revenue per available room for Teton County hostelry properties that was reported by the Jackson Hole Chamber of Commerce DestiMetric data for this same period.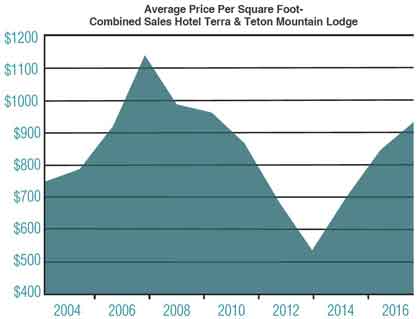 For information regarding condo-tel and all resort properties, contact the Cornish | Lamppa Realty Group resjh.com/009 or call 307-733-8899