Understanding the Likely Location of a Home in Your Targeted Price Range
By Andrew Cornish
At times a homebuyer's search parameters are dictated by a target purchase price, or range in price, rather than a geographic area. In this situation, it is important for the prospective homebuyer to understand where their anticipated expenditure level may "land them" in Teton County. This diagram thematically maps values in Teton County, with a graduation from greens to blues to yellows to reds showing a progression from Teton County's least to more expensive properties. Notably, exceptions to the thematic map exist, and the services such as those provided by the Cornish|Lamppa Realty Group can be instrumental in finding exceptions to the depicted generalities.
To address the real estate market in a more focused way, it is has been divided into three market segments: "Local," "Resort," and "Luxury."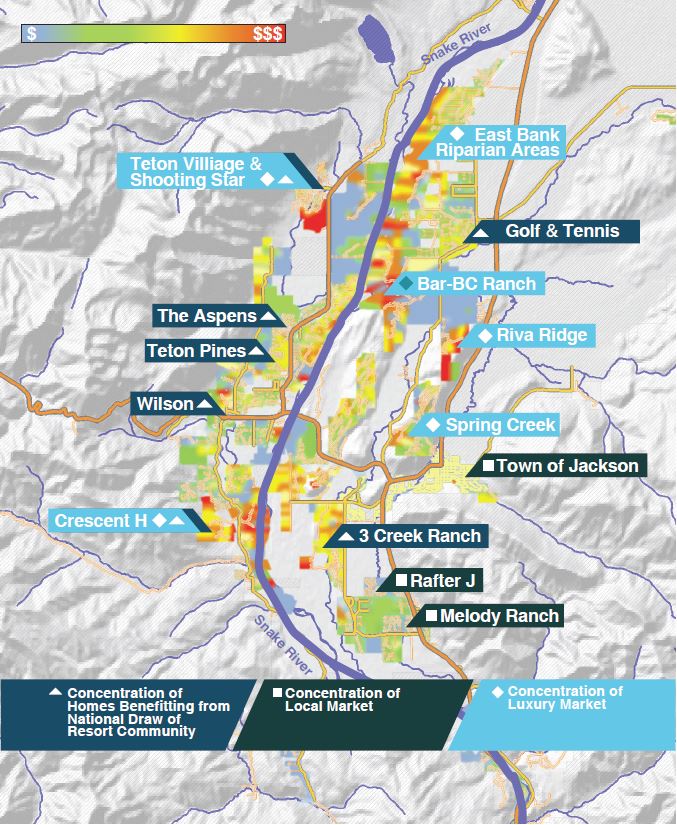 Local
The term "Local Market" is meant to describe properties in which the buyer pool is comprised of people whose primary source of income is the local economy. Typically, this implies full-time residency and a need to be close to the necessities of everyday life, including schools and shopping. Considering the diversity of the local economy and the economic opportunity in a nationally-known resort community, this is not meant to imply that the "local population" does not reside in any and all parts of the valley. Furthermore, considering that the views and recreational opportunities which make Jackson a national destination are available throughout Teton County, this should not be interpreted as an inference that homes that are located in the "Local Market" are not often targets for second homebuyers. The Local Market simply identifies properties that commonly are purchased by participants in the day-to-day economy of Teton County. Geographically speaking, properties comprising the Local Market primarily are located in the Town of Jackson and South of Town market areas and are generally comprised of homes selling in the range of $1,200,000 or less (although exceptions are noted). Observing the above thematic map of assessed property values in Teton County, the concentration of Local Market properties are denoted by the blue and green-shaded regions in these areas.
Resort
As can be discerned by its name, the "Resort Market" is the classification for that part of the market having characteristics of and use by the resort community. This market segment includes properties that surround recreational hubs such as the Jackson Hole Mountain Resort, Teton Pines Country Club and Resort, Jackson Hole Golf and Tennis Club, and Spring Creek Ranch Resort. When considering properties in formal resort settings, it is intuitive that higher price points are garnered by such homes. However, to fully understand the Resort Market, its definition must be expanded to include all properties whose economic characteristics are most impacted by the purchasing power of an internationally-drawn pool of market participants. This expanded definition may include homes which appear to be in a more modest setting, but that benefit from a strength of value from their proximity to one or more of Teton County's recreational draws. Properties within the Resort Market are located throughout Teton County and often range in price between $1,000,000 and $4,000,000. Observing the adjacent thematic map, Resort Market properties are denoted by the light green and yellow shaded areas near Teton Village, on either side of the Snake River, and in the golfing communities of Teton Pines, 3 Creek Ranch and the Jackson Hole Golf and Tennis.
Luxury
The Luxury Market segment is the descriptive term reserved for Teton County's finest, and correspondingly most expensive, properties. In 2015, over 29 single-family homes sold with prices greater than $4,000,000. Examining this data in greater detail, 11 of these sales  were $9,000,000 or greater, which totaled over $122,000,000 in sales volume. Properties with exceptional characteristics are not uncommon in the Jackson Hole market. The central attributes that define a luxury home in Teton County are the home's location and its quality of construction. However, a home in the Luxury Market likely is to be a composite of many factors in addition to these attributes:
Quality – A luxury home in Jackson Hole will be built with no expense spared. To some, this may imply the use of large diameter logs and reclaimed timber beams with wrought iron accents; to others, this may mean architectural concrete and floor-to -ceiling glass with a minimalist flair. Regardless of your taste, Teton County's construction force is a proven entity when it comes to producing homes of exceptional quality and detail.
Location – There is no one location in Teton County in which a property must be located in order to be considered as a luxury property. Luxury buyers may desire to be close to the ski slopes or may want seclusion and their own trout stream, both of which exist in Teton County. As examples, the recently developed Shooting Star golf course in Teton Village provides the opportunity for resort living at the base of the Jackson Hole Mountain Resort, while the east bank of the Snake River from its intersection with the Gros Ventre River and northward is a setting providing 35 acre+ homesites for secluded ranchette properties in such developments as Bar-BC, Bar-B-Bar and Riva Ridge.
Water Frontage – Being perhaps a subcategory of location, water frontage significantly can increase the value of a home and can up to double the value of a vacant site. The view and  fishing amenities provided by the Snake River or Gros Ventre River, as well as any of the spring creeks that traverse the valley, is a "must have" attribute for some Luxury Market participants.
Teton Views – As the center piece of Grand Teton National Park, the granite spires of the Teton Range arguably are one of the most treasured views in the western United States. Many luxury homes have been sited specifically to maximize the benefit of such views.
Proximity to Public or Protected Lands – Less than 3% of Teton County is available for development, with the balance being a mix of national forest, park, wilderness, elk refuge, BLM
land, or other conservation easement lands. Proximity of a home to public land can provide protected view corridors and easy access to boundless recreational opportunities.
Any one of the above attributes considerably can impact the value of a luxury home. The existence of more than one of the above attributes may enhance value exponentially. The sales prices of homes in the Luxury Market in 2015 ranged from its bottom demarcation value of $4,000,000 to a highest sale of $21,500,000, with an average value for this segment of approximately $7,700,000.
Observing the adjacent thematic map of assessed property values in Teton County, the concentration of higher-value properties are denoted by the areas which progress from yellow to red-shaded regions. Concentrations of high-value property can be noted on the west side of the Snake River in Teton Village (skiing / golf), Teton Pines Golf Club (golf) and Crescent H Ranch (fishing / outdoor recreation). Luxury homes also are noted on the east side of the Snake River from its confluence with the Gros Ventre River at the Bar-BC Ranch Subdivision and extending northward following the Snake River towards the boundary with Grand Teton National Park.