Big-name Artists Visit an Intimate Venue in Jackson Hole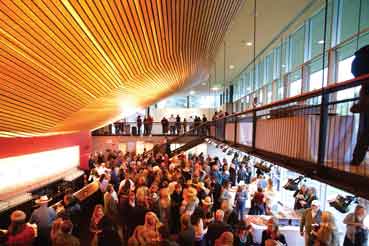 Located in downtown Jackson, the Performance Theater at the Jackson Hole Center for the Arts is perhaps the most intimate venue in which you could ever hope to see a big-name artist perform. Having only nine rows on its main level and an equal amount in the balcony, the claim that there is not a bad seat in the house needs to be modified to "there only are excellent seats in the house" when speaking about the 500-seat theater.
Were you to walk into the empty theater, you might think it a more likely venue (from the standpoint of size) to accommodate a community production or high school orchestra concert – and the Performance Theater is in fact made available for groups such as Dancer's Workshop, Off Square Theatre Company and the local schools to showcase their hard work and talent. However, putting aside the opinion of the parents of budding cellists and actresses, one of the more remarkable aspects about this venue is the slate of performers that have come to play.
For the 2015-2016 season fortunate Jacksonites and visitors were treated to a lineup that included Garrison Keillor, Grace Potter, John Hiatt, Lyle Lovett, Robert Earl Keen and Elvis Costello.