Residential: Gains Continue Over 102 – Inventory at Lowest Point Since 2007
Commercial: Advance Bookings Boost Hope for Good Visitation Season
 Residential – Observing data compiled through the end of October of 2013, it is noted that the number of residential real estate sales (single-family homes, attached homes, and vacant lots) are up from 376 total sales during the first nine months of last year to 541 sales during the same period of this year (an increase of 43.88%). This is considered to be on pace with the 44.58% increase that was noted at the end of September. It should also be noted that the current year-to-date sale volume is only a rounded 23% less than the volume noted at this time in 2006 (the last year unaffected by the mortgage crisis of 2007). It could be argued that a low-twenties disparity in current sales volume numbers from that of 2006 is not a measure that is indicative of a recovery. However, when noting that the 2013 YTD number of sales is 222% above the 2009 low recording of 168 sales, a more positive perspective is gained. Further indication of the ongoing recovery is that the dollar volume of sales is up nearly 29% from the preceding year. The average price for real estate is down nearly 8%. However, this was due to a flurry of more moderately price inventory being sold throughout the year to date, a point that is further corroborated by the fact that examination of individual property sales provides the indication that values, on average, have been increasing between .25% and 1% since the market reaching an inflection point in mid-2011. [1] Furthermore, it is opined that one of governing factors contributing to the recovery of the rate of sales not even being greater than currently exhibited is a declining inventory of available homes for sale. Observation of active listings in mid-December, shows that the available residential sales inventory is currently less than half of what it was last year and currently at its lowest point since 2007. While this presents a challenge for those seeking a home, it provides a benefit to the selling side of the equation.
Commercial – The number of commercial sales as of the end of October was down slightly, with 17 sales occurring in 2013 as compared to 21 in 2012. However, this drop is not seen as being a significant indicator of commercial activity due to the small sample size. Moreover, commercial capitalization rates remain bullish for Teton County, with office and retail properties most often yielding capitalization rates between 5% and 6% and hostelry properties yielding overall rates more typically in the 7%-8% range.  In that vein, local hostelry operators are cautiously optimistic on the upcoming winter season with advance bookings reported to be slightly up in Teton Village, while reportedly remaining level for most in-town properties. The Rocky Mountain Lodging Report provides that revenue per available room (RevPar) for the Jackson market place was up approximately 4.5% as of October year-to-date.

*Value trends vary between market segments and property types.
Summary of Market Statistics

 (click on tables/charts to see enlarged view)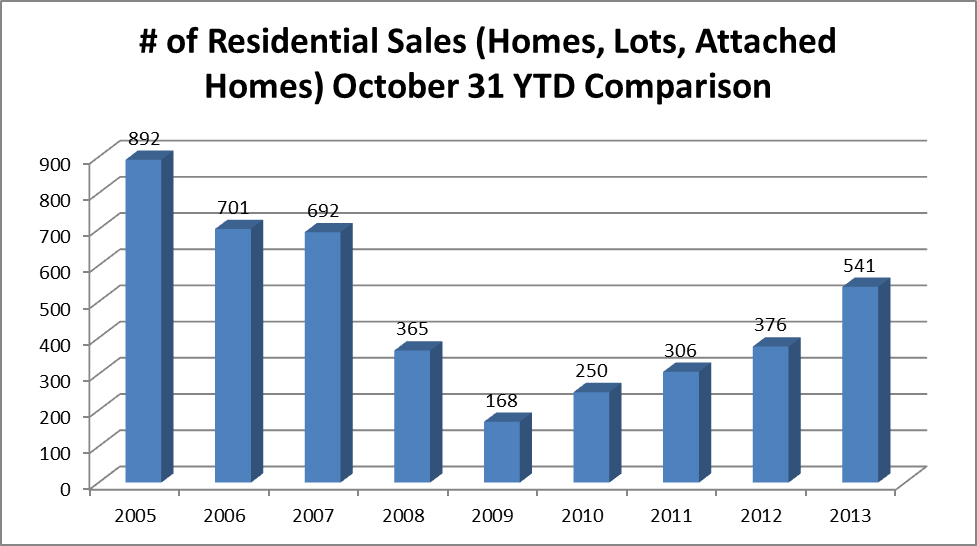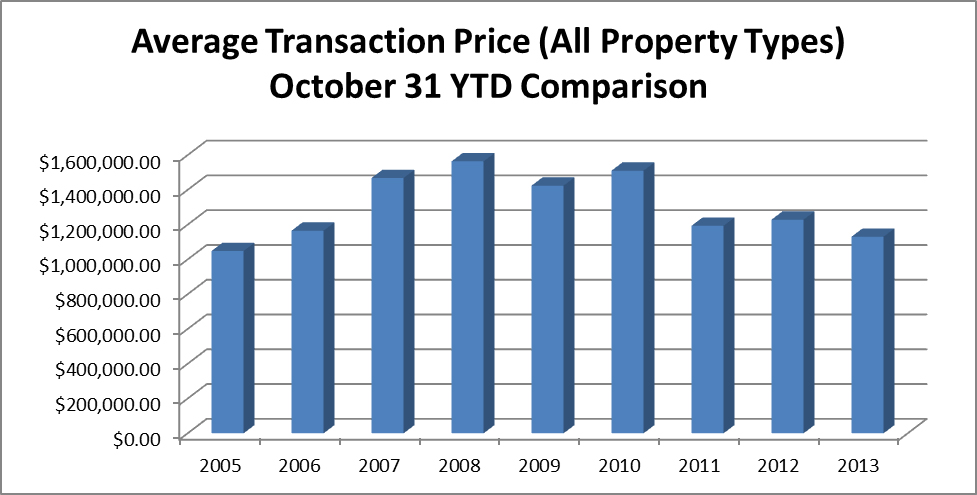 Combined Sales Data – All Property Types

Vacant Homesite Market Segment

Attached Home (Condominium / Townhouse) Market Segment

Single Family Market Segment