Historically, the market snapshots and yearend reports that I provide have not only addressed the market as a whole, but also have broken it down into its component parts of the "Resort/Luxury" market segment and the "Local" market segment, with the latter of these segments being defined as properties that historically have been targeted for purchase by market participants whose economic resources were dependent on income earned locally. The last two years have challenged this definition and called into question whether the purchase of any Teton County property is possible for all but the upper echelon of local economy participants. Perhaps the most pronounced example of this has been in the incorporated limits of the Town of Jackson. This area has always had some higher-end sales, particularly in areas adjacent to the national Elk Refuge and the "East Jackson" submarket. However, in 2021 the top ten highest sales in the Town of Jackson Market Area averaged nearly $4.6M, with the overall average of all single-family homes in the incorporated limits of Jackson averaging just under $2.5M. Both of these measures show an over threefold growth in pricing since 2013.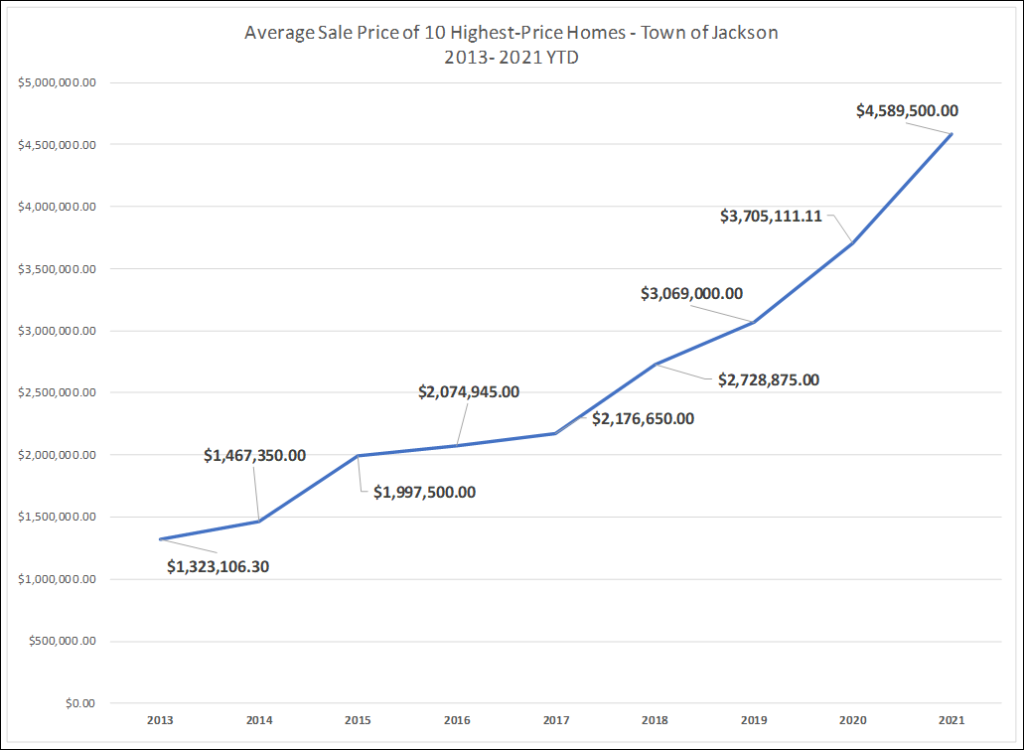 While the examination of the growth of pricing in the Town of Jackson provides eye-catching datapoints (with prices ranging north of $4M certainly being noteworthy), perhaps of more impact to participants in the local economy has been the increases noted in neighborhoods such as Rafter J Ranch and Cottonwood Park. These developments were conceived over 40 years ago with their proximity to schools being a selling point to local families. When looking at 2021 year-to-date data, it was noted that the top five sales for Rafter J Ranch ranged from approximately $1.6M to $2.2M, with one nearly 1,700 square foot home selling for $2.1M after being on the market for just under 60 days.
Real estate throughout Teton County has experienced exponential growth since the onset of the Covid-19 pandemic. This is not surprising considering the flight from metropolitan areas – and what better place to flee to than Jackson. While this price growth has been a tremendous boom to those participants of the local economy that already own real estate, it creates a near impossibility for those without a foothold already to lever their way into the community. As a result, we may be looking for a new way to classify the market segment that formerly was known as the "Local Market".