When viewing data through yearend 2019 (a composite of single-family homes, attached homes, and single-family homesites), the Teton County Real Estate Market is noted to have reported a number of sales that is approximately 6% less in 2019 than that of the previous year. This change in volume is not viewed as a market contraction, rather a decrease that was fueled by a lack of inventory of available properties as the amount of active inventory available has decreased for the fifth straight year. The continued and arguably increasing popularity of Teton County, combined with a tight inventory, has caused a continuation of the appreciation trend that been ongoing since shortly after the 2011 inflection point in the wake of the 2007-2009 recession. Observing sales and resales of the same or similar properties appreciation rates in the 6-10% range is most prevalent. Entry level homes had appeared to be beginning to plateau in price 2018. However, a stalemate between buyers and sellers seems to have been won by the sellers, with appreciation in this price segment making up for lost time and providing instances of mid-double-digit appreciation rates in 2019.
Combined Sales Through Year-end 2019


Single Family Home Sales Trends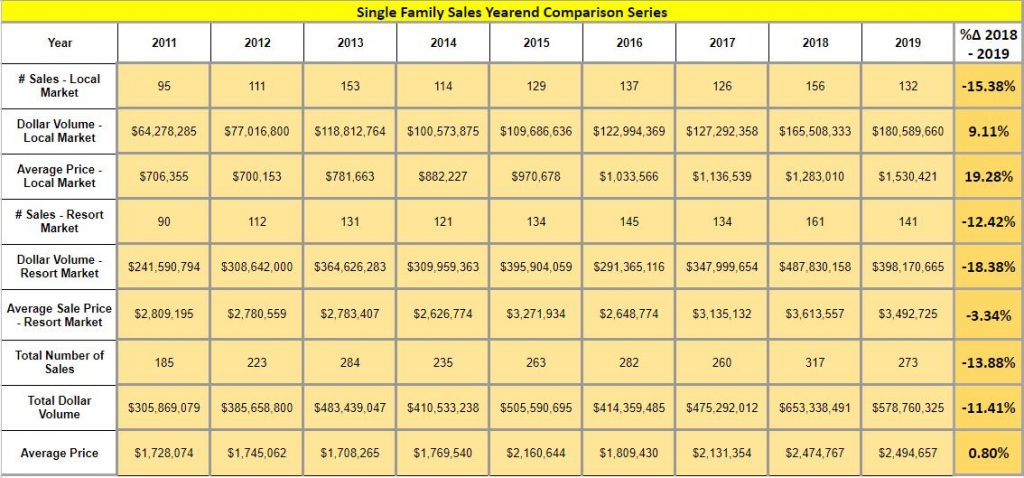 Feeling the facts of a decreased inventory of active listings, the single-family home market showed an early 14% decrease in the number of sales. Average sales price appeared relatively flat in this sampling of data. However, examination of individual sales indicates that 6-10% appreciation rates were ongoing in this market segment.
Attached Home Sales Trends

The attached home market (condominium / townhouse) showed a modest increase in sales numbers, with this increase being led by the local market that broke free from a stalemate between buyers and sellers in 2018. Prices showed appreciation in both the Local and Resort Market, with the state price growth from this aggregated data understating the price growth indicated by sales and resales of individual homes.
Vacant Land Sales Trends

Vacant land sales were down in number by over 7%. The combination of decreasing sales number amid increasing prices, points to a lack of inventory as a contributing factor to decrease in sales volume. When viewed in the component parts of the local and resort market segments, both sectors showed low double-digit price growth, which is corroborate by sales and resales data, although perhaps such data provides a slightly more modest annual rate of growth (7% – 10%). The high-end market was very active in 2019, with the top 15 sales having an average price of approximately $4,742,000, a figure over 11% higher than the top 15 sales in the previous year. The prevalence of high-end sales is noted to skew the appreciation rate of the combined market (combined local and resort market) above the indicated growth rate of individual parcel data (sale and resale data).
Inventory Levels

The preceding table arrays a yearend snapshot of inventory levels for the past seven years. Inventory levels continue to remain low and are frequently cited by agents as a stagnating factor for sales volume levels. As shown by the preceding data, the combined inventory of single-family homes, attached homes, and vacant land listed for sale has decreased steadily since the recovery from the recession.

Access to the most comprehensive sales database anywhere from
the leading brokerage and appraisal business in Teton County.
Andrew Cornish – Broker
PO Box 9467 | 155 E. Pearl,
Suite 10
Jackson, WY 83002
(307) 733.8899
(307) 413.7799 cell
Linkedin

Data provided by Rocky Mountain Appraisals, Teton County's leading valuation firm: www.rmappraisals.com