In my previous post What's Driving the Jackson Market – we established that Teton County's lack of privately-owned land, combined with an exploding outdoor-oriented, remote-working demographic has applied a marked upward pressure on real estate pricing. As support for this, we gathered several examples of price growth shown through comparative sales and resale of the same or similar properties over time which can be seen below.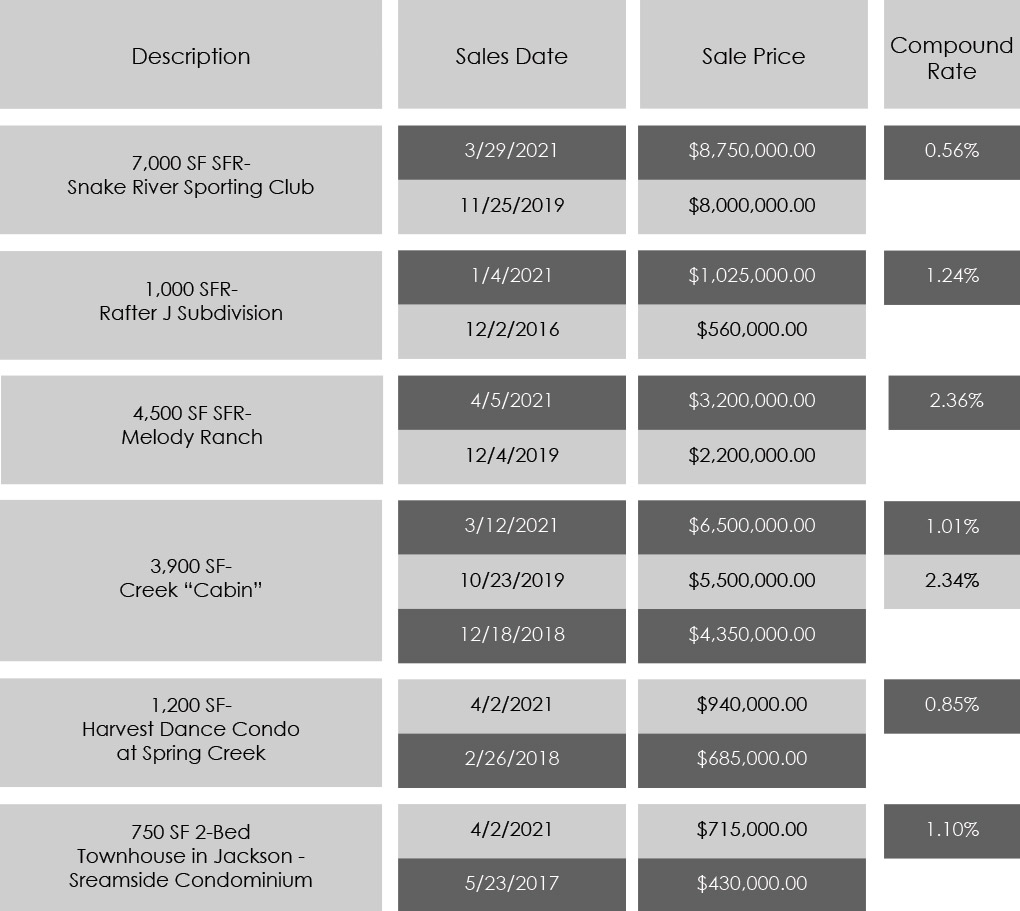 For those interested in seeing more examples or focusing on a particular neighborhood in Teton County the link below will bring you to 33 comparisons just like the ones in the table here.
Takeaways
Some of the main takeaways from the sale and resale data shown above are:
The range of observed compound monthly appreciation was from .48% (5.7% annualized) to 11.58% (138% annualized)
Average observed appreciation – 1.87% per month (22.5% annualized)
Median observed appreciation – 1.10% per month (13.3% annualized)
Majority of the comparisons involved the observation of an initial sale occurring in 2017 or greater, with the second sale (the basis for the price growth observation) occurring in 2021. Three of the examples had more than one sale which allowed for a good comparison of the property appreciation prior to this recent period of booming demand (2020-21). One of the comparisons showed a greater rate of appreciation in the most recent period observed; one of the comparisons showed a greater rate of appreciation during its previous sale/ resale; and one of the comparisons showed price growth that was roughly equal during both periods.
Appreciation Trends
Appreciation rates were widely varied throughout property types without a clear association of appreciation for a particular location or type of property with two exceptions:
Condo-hotel properties in Teton Village had some of the most uniform appreciation, with compound rates of appreciation hovering around 1% per month. A hypothesis could be developed, perhaps, that the income component to such purchases provides a common denominator that limits a buyer's ability to rationalize them as an "emotional acquisition."
Mountain modern aesthetics (whether gained through a refurbishment or pre-existing) appears to enhance price growth potential.
Limited inventory has caused some neighborhoods to "reinvent" themselves and become targets for higher-end second homeowners (whereas before they may have been lesser so). The appeal of these neighborhoods to a more monied clientele has accentuated price growth in such neighborhoods (Melody Ranch and West Jackson being examples of this).