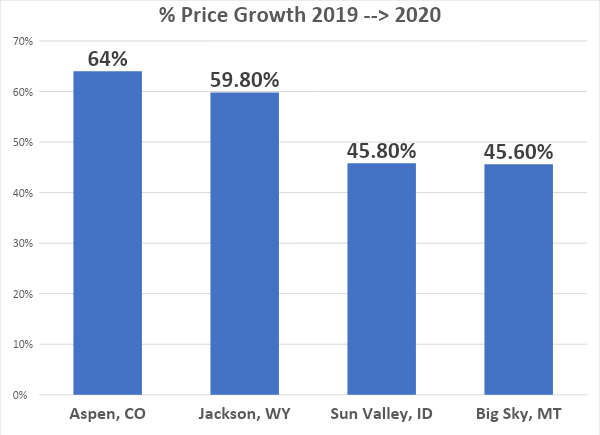 The past year saw an explosion of the Jackson Hole real estate market, with residential real estate sales east of the Tetons in Teton County approaching $1.8 Billion dollars and the average price of a single-family home increasing 47% in 2020.
Sotheby's International Realty reported that the average price appreciation in Jackson Hole was the third highest of all resort towns. These trends have seemed to only accelerate further so far in 2021 based on the limited sales data available. This limited data is showing home sales that, when compared to their prior sales, are indicative of over 5% per month price growth. Such sales beg the question, Why? What exactly is driving this unprecedented price boom of the Teton County Real Estate Market?
The Forces Behind It All
The ultimate reason for any price change boils down to the simple demand versus supply equation, but supply has long been limited in Teton County and demand has never been higher. The pandemic brought the concept of remote working into mainstream acceptance and appears to have further encouraged those who were contemplating retirement (or at least a working retirement) to make the move to more rural areas. Jackson Hole is a very unique place, and I don't feel the readership of this post is looking for a sales pitch on the attributes of the community. That aside, let's just say that it is very understandable that Jackson has garnered more price growth than most resort-oriented towns. However, the differentiating factor that has caused Jackson to outpace most other resort communities is the previously mentioned lack of supply.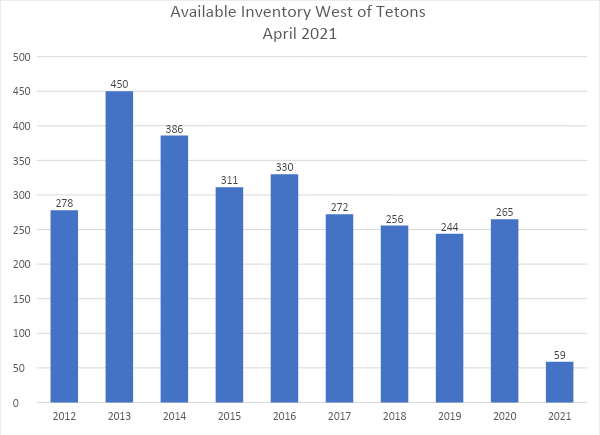 Limited Room for Growth
Despite Teton County, Wyoming being comprised of 2.7M acres, it is estimated that only 62,500 acres are privately held and available for development. Furthermore, the land development regulations in Teton County are geared towards the preservation of its natural and scenic amenities, with a majority of the remaining vacant land requiring minimum lot sizes of 35 acres or greater. This perfect storm of Jackson Hole's growing notoriety among the rest of the country and especially those in larger cities during the pandemic, and the lack of room for the creation of more privately-held real estate has resulted in a plummeting inventory of real estate on the market. Inventory in Teton County, west of the Teton Range was noted in late April 2021 to be over 77% less than it was a year earlier, an immense drop.
Ultimately, Teton County has long been experiencing steady real estate price increases but the added push of the pandemic moved this increase to heightened levels that presently show no signs of stopping.