Former Marine Pilot Builds Restaurant Group On Principals Of Hard Work and Generosity to Employees and Community
By Brigid Mander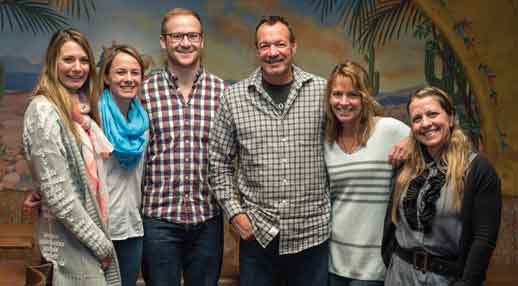 While Jackson Hole may not be the easiest place to start a business, those with determination and a willingness to work hard can make it happen. There are plenty of local success stories.  Most are out of the public eye, but others are prominent, such as in the case of Joe Rice, founder of the Blue Collar Restaurant Group.  Like so many current residents, Joe Rice visited Jackson once to ski, and thought he liked the place a lot. So in 1989, Joe and his wife Denise moved here, and bought a simple taco stand named The Merry Piglets. They manned it slavishly themselves those first few years, setting themselves on a road to success. Today they see the sum of all the talented people they have been able to hire – and keep on board – as the key to that success.  In recognition of that, they are taking those successes and giving back to their employees and to the community at large.
This story of accomplishment and being in a position to improve other's lives wasn't in the cards for a guy like Joe Rice. He grew up poor in New Jersey. His father died while he was still in school. But Rice wasn't the type of kid to accept the fate laid out for him – and he didn't.
Gifted with academic smarts, athletic talent,and a driven personality, Rice was awarded a track scholarship to Princeton University. After graduation, challenge and excitement beckoned, so Rice joined the Marine Corps to become a pilot. "I always wanted to learn to fly, and I felt that doing it in the Marines would be the biggest challenge," said Rice. "When you go in the Marines, they try to get you to quit. You have to really want to be there. I learned hard work growing up. I've always been this way – to challenge myself and be around the best people."
Rice spent seven years as a pilot in the Marines, followed by three in the Reserves. "I came up to Jackson to ski once – I had a friend in the Marines who kept telling me check it out – and I really liked it." Once Rice and Denise arrived, they saw opportunity in the Merry Piglets taco stand – a business that no one else wanted.
They built Merry Piglets into a full-fledged Mexican restaurant, and since then, Blue Collar has gone on to run a number of eateries, including Sidewinders, Noodle Kitchen, Artisan Pizza, Bubba's and Liberty Burger.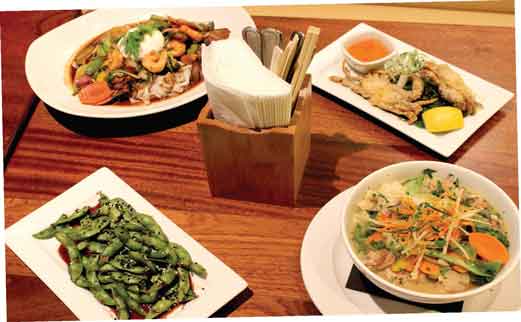 That might seem like plenty of work in itself, but former-Marine Rice is not one to relax. Since he has come to call Jackson home, he felt a few things were missing from the community. So Rice has undertaken two new projects. One is to build a 25,000 square foot indoor athletic facility for youth and adults, as well as breaking ground on an 80-90 unit apartment complex to help mitigate the costs and stress for Blue Collar employees of Jackson's increasingly scarce housing.
Rice is a tough guy to compliment. He shrugs off accolades, and passes them on to his team, citing values he learned before arriving in Jackson. "I owe my success to being in the Marines," he said. "It just sets you up for a certain way of doing things. Take care of your people Lead by example. If something needs to be done, do it yourself. [At Blue Collar] if somebody needs something, we help them."
Rice credits the success of Blue Collar to this code, and to the type of employee it attracts. "We have had people working with us for over 20 years – everyone is treated as an equal," said Rice. "They know they can and should give constructive criticism and speak up. Some of the best ideas have come from our staff. Our people really take care of each other. If you don't have good people, you don't have anything."
"[Rice] is invested in everyone's welfare – and everyone knows it, said Tracey Joralemon, manager of Merry Piglets, who has worked with Rice and Blue Collar for 20 years. "He is invested in the community and the new generation. He came from the working class and he doesn't forget it."
"You don't even know [Joe and Denise] are the owners," said Megan Watson, a server who has worked at Rice wants to bring opportunities into the community for other local athletes.
"I have three daughters, and I always told them they could do anything they want. Just because you come from Jackson Hole doesn't mean you can't go to the best schools and pursue your sports."
The facility will have a 100×200 meter indoor field for soccer and lacrosse, as well as strength training, stretching, and agility training rooms. "My passion is helping kids, but we will have adult leagues too. And anyone coming to Jackson with nothing, Rice and his wife found the perfect place to build careers, raise a family, and to give back to a place that might be a globally known destination, but that still maintains its small town western American values.
"I always wanted to live in a place where my kids could live in an outdoors environment. Growing up here gave them some really good values. People might have different political views, and this and that, but at the end of the day people help each other."