Protecting Your Home Investment
By Sara Van Genderen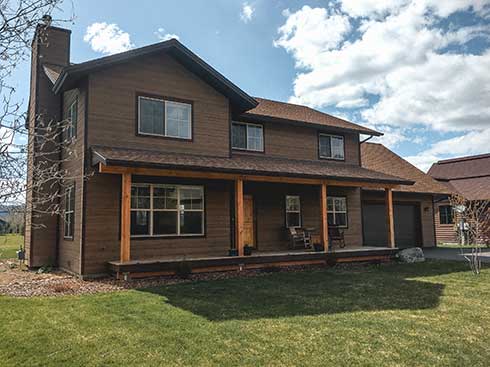 A home typically is one of the largest financial investments that you make. After finding the Jackson Hole home of your dreams and working with your local Realtor to get the property under contract, title review is an essential part of the due diligence inspection. The title insurance review process minimizes the risk of title issues and protects a buyer's ownership rights.
Title insurance starts with a search of the Teton County Clerk public land records for matters that could affect title or use of a property. Once under contract, the seller generally is required to promptly provide the buyer with a title commitment for review.  The title commitment is issued by one of the local title companies whose professionals search various public records to identify any potential title issues, such as taxes, liens, restrictive covenants, and easements encumbering the property.  The title company's search additionally identifies title risks, such as mechanic's liens, tax judgments, unreleased mortgages, pending bankruptcy, litigation, or probate issues.  Any identified issues that do not allow for clean transfer of title must be corrected for a clean transfer to occur.  In Teton County, buyers often work with a local real estate attorney to review the title commitment and resolve issues prior to closing.
A title commitment typically is divided into two parts: (1) Standard Exceptions; and (2) Special Exceptions. Standard exceptions are those that are not specific to the property, while special exceptions are, and both are exceptions to coverage under the title policy.
Standard Exceptions may include:
Taxes or assessments against the property which are not shown as existing liens or shown by public record
Easements, liens, or encumbrances not shown by public record
Encroachments,  violations, variations, or adverse circumstances not shown by public record
Unpatented mining claims and reservations or any right to remove to sand and gravel
Water rights
Liens for unpaid services, labor or materials not shown by public record
Special Exceptions may include:
Taxes not yet paid
Homeowner association assessments
Reserved subsurface mineral rights
Access or utility easements
All matters and restrictions delineated on the official plat
Covenant, Conditions and Restrictions provided in the Declaration of Covenants for the subdivision in which the property is located or other deed restrictions.
To minimize the risk of any exceptions creating title issues which may "kill" a real estate deal, working with the title company and an attorney to delete or resolve the exceptions is a buyer's best solution. In Teton County, a few examples of common title issues are easements or unique restrictive covenants. An access easement may give persons other than the owner the right to cross the homeowner's property. In Jackson Hole, we often see easements that may allow neighbors to cross a property via foot, horseback or vehicle to gain access to neighboring public lands or private property. It is important to identify the location of such easements to determine if it will affect your use or enjoyment of the property. View corridor easements also may be in place to permanently protect views of the Teton Range and may prevent you from building or landscaping in certain areas.
A declaration of covenants, conditions or restrictions ("CC&Rs") for a subdivision is recorded against a property.  The CC&Rs generally establish a homeowners association which is authorized to control certain aspects of the property, such as home design or restrictive uses.  During title review, a buyer always should carefully read the CC&Rs because the buyer will be expected to comply with the rules and restrictions. CC&Rs may prohibit a buyer to keep horses or other livestock (urban chickens are the rage) or may have rules prohibiting tree cutting within the subdivision, which may impact property views.
A final title issue of which a buyer should be aware is a provision in the standard Wyoming Association of Realtors contract which provides by default that a seller may purchase an owner's title insurance policy that in effect "insures over" a discovered defect. It is often advised that a prospective buyer has an attorney review the entire contract before signing and consider modifying or eliminating this provision so that transfer of clean title is required.
After you've worked through the title review process, the purchase of an owner's policy at closing will protect a homeowner from title risks and challenges as long as you own the property.
Sara Van Genderen is a partner with Mullikin, Larson & Swift, LLC since 1993 where her practice includes real estate, corporate and employment law.