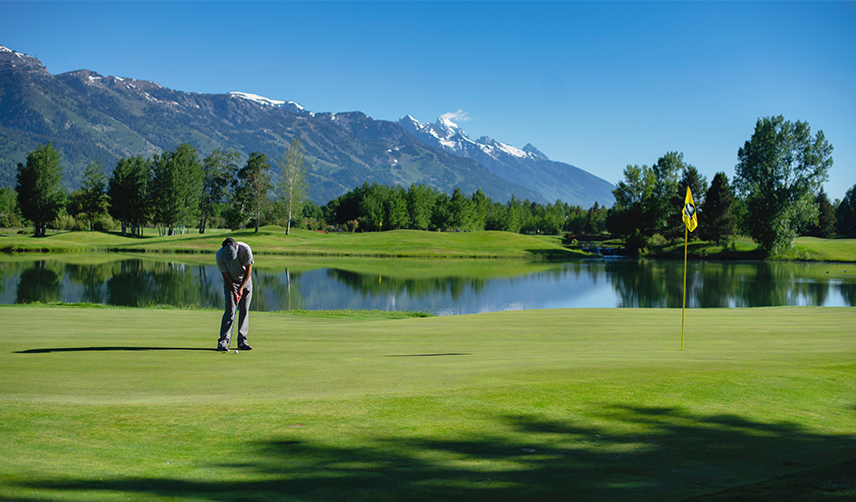 The Course
Teton Pines is a semi-private club with a private membership base, but is open to the public for play.  The course is situated centrally on the Moose-Wilson Road (the access road to the Jackson Hole Mountain Resort), a location that offers both a proximity to recreational opportunities such as Snake River and National Forest access, while only being 6 miles from the town of Jackson.  Teton Pines is an 18-hole, 7,412 yard, Arnold Palmer-designed course. The views of the Teton Range from Teton Pines has had it ranked in Golf Digest's "top places you can play". Aside from golf it's numerous tennis courts of both hard surface and clay, make it the most vibrant tennis community in Teton County. 
Other Than Golf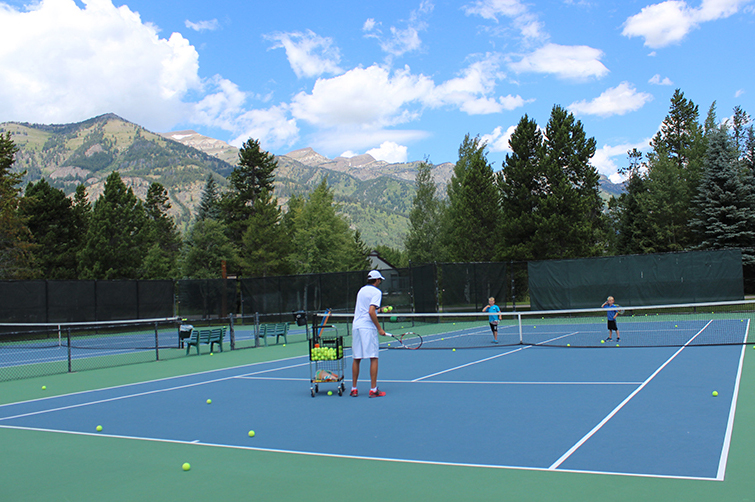 Recreational opportunities other than golf include:
Well appointed clubhouse with room for private events and a local's favorite vibe for both Après Ski and the "19th hole"
Multiple hard surface tennis courts and clay courts
Tennis Bubble for winter play at Teton County's most vibrant tennis community.
Indoor Golfing Facility for winter practice
Full-sized pool for lap swimming or family recreation (25-yard lap pool, hot tubs and heated paver decks coming in 2021)
Groomed Nordic skiing trails
Fitness Room for member use or participation in organized classes
Membership Types
Teton Pines has a single membership category in regard to initiation charge (full member) that is only partitioned by age, with joining members above 45 years paying more than those below this age threshold. Monthly fees are then based on chosen activity level that range from an above 45-year-old full golf to a below 45-year-old swim/social membership. There is currently a waitlist for membership, with it being estimated that availability will occur in the spring of 2022.
Real Estate
Teton Pines is comprised of Estate Lots, Cluster Lots and Garden Homes / Lodges. Estate Lots typically range from .5 to 2-acres, with these lots supporting homes up to the county maximum of 8,000 SF. Sales of estate lot homes in Teton Pines in recent years have ranged from $4M to approaching $10M with homes being in the 5,000 – 7,000 SF. Cluster lots support homes that are relatively uniform in design and located on 6,400 SF pads that are surrounded by common area (providing a much larger feel than the deeded size of the lot). Cluster homes can range in size from 2,300 SF to over 4,500 SF, with the most recent sales being of unit at the larger end of this range in early 2021 in the $3.5M – $3.9M range.
Summary
Teton Pines central location between town and the Jackson Hole Mountain resort, coupled with an Arnold Palmer-designed course and a well-established tennis community make this golf course a favorite for both locals and visiting golf aficionados. A tennis bubble, groomed Nordic Skiing track and crackling hearth round out the wintertime opportunities.
Teton Pines Real Estate Listings
If you are interested in any of the below properties or Teton Pines properties in general, feel free to reach out to me and I can provide you with more information!