Renting a home when not in use by its owner is certainly not unique to Teton County.  However, the existence of Jackson Hole as a resort community creates some nuances that should be understood by the prospective renter. This article provides both the would-be and existing property owner with a general overview of the formats for rental collection in Teton County and the associated expenses for each of these varying types.
OVERVIEW OF TYPES OF RENTAL FORMATS COMMON TO TETON COUNTY
Long-Term
Long-term rental is the most straight-forward type of rental, with a well-drafted lease, local pricing knowledge, and a "short list" of service providers being the main components of this approach to rental.  
Income
Rental rates for single-family properties are most frequently quoted in terms of rent per month. Lower-to-moderately priced homes will be often be thought of in terms of rent per bedroom, as tenants are frequently groupings of non-related persons.  Such rules of thumb are less applicable to upper tier homes, as the rental of such properties is often at least partially predicated on amenities and living area, rather than sleeping capacity. Interviewing prospective property is  an important part of the process in estimating the likely income level of a property. Market pricing for workforce housing often ranges between $600–$900 per bedroom for multi-bedroom homes in the "Town" and "South of Town" market areas. Single-bedroom rental are an exception to this rule of thumb, with these types of rentals frequently being in the $1,200 a month range.  Summer rentals for resort homes can often be in the $20,000 per month range, with high-end properties in premier locations being noted to have rented for greater than $50,000 per month. Care should be taken by the prospective renter to not simply extrapolate the rental rates from the premier summer months for a calendar year.  A 3-4 bedroom home on more acreage with higher quality and/ or out buildings could easily rent in the $6,000 – $,8,000 per month range when leased for a year (as opposed to the above-mentioned five-figure rental rates for only the summer months).
Expenses
Long-term rental expenses are very similar to that of the expenses which you likely are familiar with from other property ownership:
Taxes 
Taxes in Teton County are the product of the mill levy for the property's location and "assessed value," which is 9.5% of the estimate of market value produced by the Assessor's Office. Mill levy's may vary due to special assessment and improvement districts, but typically range between 5.5% – 7.5% of the assessor's estimate of value.  Keep in mind, if increases in a property's value have not yet been incorporated into the assessor's estimate of value, your purchase of the property may provide the impetus for a "mark to market" on the annual tax bill.
Utilities 
The best way to anticipate the utility expenses of a home is to examine its historical billing. Electricity in Teton County is provided by Lower Valley Energy, with this cooperative also providing natural gas where piping has made this available (propane can available through several local providers when natural gas is not).  Homes located within the Town of Jackson have access to the public water and sewer. Homes in the unincorporated areas of Teton County may have access to community and water and sewer systems that serve areas ranging in size from individual subdivision to collective districts covering several square miles. Again, investigating historic billing is the best way to estimate future billings. Private wells and septic are also prevalent, in which case this expense would be captured in electrical billing.
Insurance 
The best advice for gauging insurance expense is to get a binding quote.  There is typically an increase in premium for a property that is rented long-term, and some carriers will not insure a property for short-term rentals – so investigation during due diligence when buying a rental property is imperative. Hazard insurance is typically included in the HOA fees of many attached-home projects, but confirming the extent and nature of this coverage is worthwhile.
Association Charges 
Homeowners association charges vary from development to development in cost and what they include. While a property's history of HOA billing is a good starting point to learn what can be anticipated for this charge, examining the association's budget and several previous meeting minutes can provide valuable insight. As additional insurance, pointed questions to the HOA board and management company regarding planned or recently completed project improvements and their impact on the upcoming HOA billings or assessments is a good policy.
Yard Maintenance / Snow Removal
The expense of maintenance of the grounds of a rental property can range from being inclusive in association fees for attached home project's to a not-insignificant annual billing.
Management 
Management of your investment in Jackson Hole is an important not only as an expense line item, but also as a consideration for the continued health of your property.  For those who reside in Jackson Hole, a chosen degree of self-management is possible. However, the convenience and professionalism of management company make this near necessity for out-of-town owners, and a frequently sought out service by many locals as well.
Do it Yourself Management
When renting your home for longer intervals of time, doing it yourself is a viable option. This is especially in light of the current demand for housing.  However, even with the strong rental market this is an option that is most realistically applicable to those who live in the valley themselves. The ability to interview prospective tenants, tend to minor maintenance needs, and observe your tenant's compliance with HOA rules and applicable ordinances can be a tall order for the out-of-town property owner.
Professional Management
For the out-of-town property owner, employing a local property manager is a reasonable option. The services offered by rental management companies include advertising, tenant interview and qualification, lease negotiation, pre and post move-in inspections and on-call maintenance services. Long-term management services are frequently charged as a percentage of collected rent, with a range of  10% – 15% being common. Some degree of care is implied with this fee, including lease negotiation, credit checks, property check in and out and rent collection and dispersion.  However, as with most services, fees are negotiable and could be expected to slide in an "a la carte" price schedule, which may be an option for those who have the ability have a more active hand in the supervision of their property. Pricing for such arrangements can be based on hourly billing or  can be based on a per-trip. Some management companies are noted to offer a bundling of these services that may be billed as a predetermined number of "checking visits" or maintenance calls per month, with some concierge packages including airport pickups.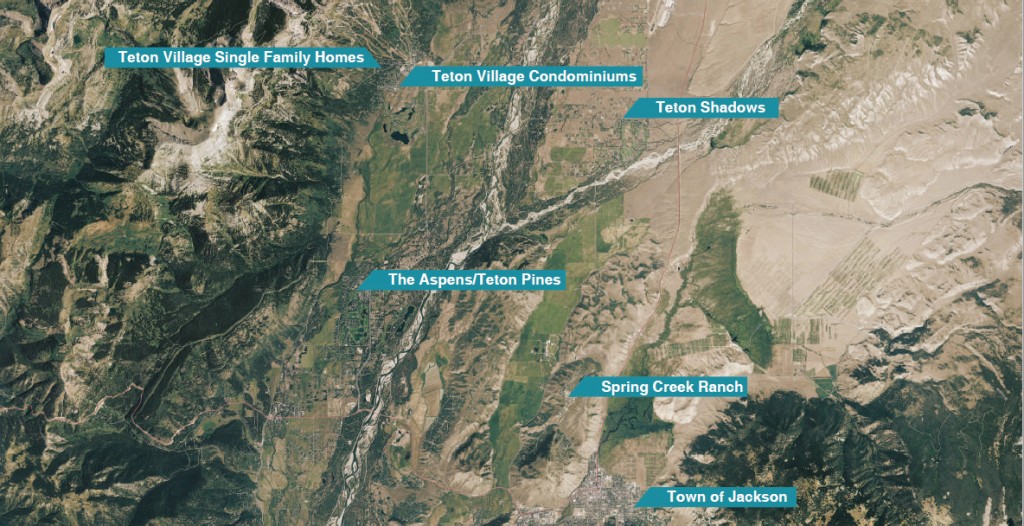 Short-Term
The steady stream of visitors afforded to Jackson Hole by its cultural, recreational and scenic amenities provide that short-term rental of property in Jackson Hole can be  a profitable way to take advantage of the demand for vacation housing in this unique corner of the country.  The first step in determining in capitalizing on this demand is to determine the legality of letting in a short-term fashion in your property's location. Once this has been determined, the would-be landlord will learn that short-term rental is typically handled in one of three primary ways:  Internet Vacation Rental; Managed Rental; or Condo-Hotel.
Internet Vacation Rental
Perhaps the most well-known internet vacation rental is VRBO (Vacation Rental By Owner), with complimentary companies such as VactionRental.com now being a part of the industry-leading HomeAway.com network. Similar products are offered by Trip Advisor's FlipKey, with companies like Airbnb also competing for market share.  VRBO now claims that it internet postings now reaches over 65 Million travelers per month.  VRBO does not offer pricing recommendations, so the responsibility of sleuthing out your competition's rates will fall on you.  VRBO has several pricing models ranging from a pay per booking model that skims 10% of the rental revenue, to annual fee that range from the mid-$300 range to in excess of $1,200 annually. The more you pay, the more exposure your property gets (similar to buying non-organic search results in a search engine such as Google). Beyond this marketing fee and 2.9% charge for credit card usage, the expenses for operating a home under the VRBO model are the same as that of long-term rental ownership. As VRBO is a marketing company, the day-to-day operation of the property is the responsibility of the property owner. The operation of a VRBO rental without the assistance of a property manager may be a time-intensive task for the out-of-town owner. Industry experts have also reported that the employment of professional managers has become an increasingly popular search criterion for vacation rental search engines in the wake of some renter's poor experiences with less-than-responsive property owners and the occasional scam rental of a not-available property.
Managed Rental 
Several local companies manage resort rentals in capacities from maintenance contracts to complete marketing and calendar management.  Often times these management companies will incorporate the use of Internet Vacation Rental platforms in their marketing efforts, which can include not only an extensive reservoir of pricing knowledge, but the benefit of seasoned and established search engine rankings. The owner of a fully-managed property can expect to pay between 25% and 40% of gross rental receipts to the management company (with the difference being attributable to the level of all-inclusive property maintenance). In addition to this a property owner can expect charges for travel agent commissions, bi-annual cleaning, and routine maintenance that can equate to additional expenses in the range of 10% of gross rentals. From this figure of "gross profit" a property owner will then be responsible for HOA dues, utilities, Insurance and Taxes.  
The Condominium-Hotel (Condo-Tel)
The Condominium Hotel (Condo-Tel), is exactly what it sounds like.   This form of ownership allows property owners to have their property promoted seamlessly as part of a functioning hostelry property. Management from property promotion to room bookings to cleanings are handled by the hotel management, while the property owner is not there.  This form of ownership offers the dual benefits of revenue and ease of access, as the property is made ready for you upon your arrival. Frequently the amenities of the hotel such as ski concierge and equipment storage are available to the property owner and discounts at on-site restaurants and spa facilities are added pluses.  Condo-tel ownership is associated with some of Teton Village's newer properties that are in desirable central locations including the Teton Mountain Lodge, Hotel Terra, Snake River Lodge and Spa, and the Four Seasons. As would be anticipated for the higher level of service and marketing associated with a condo-tel, management fees are somewhat higher than an individually-marketed managed rental. Condo-tel management fees are typified by an equal sharing of gross revenue between the hotel and the property owner, with the property owner then being responsible for miscellaneous expenses including housekeeping, HOA fees, bi-annual deep cleaning, routine repairs and property taxes.