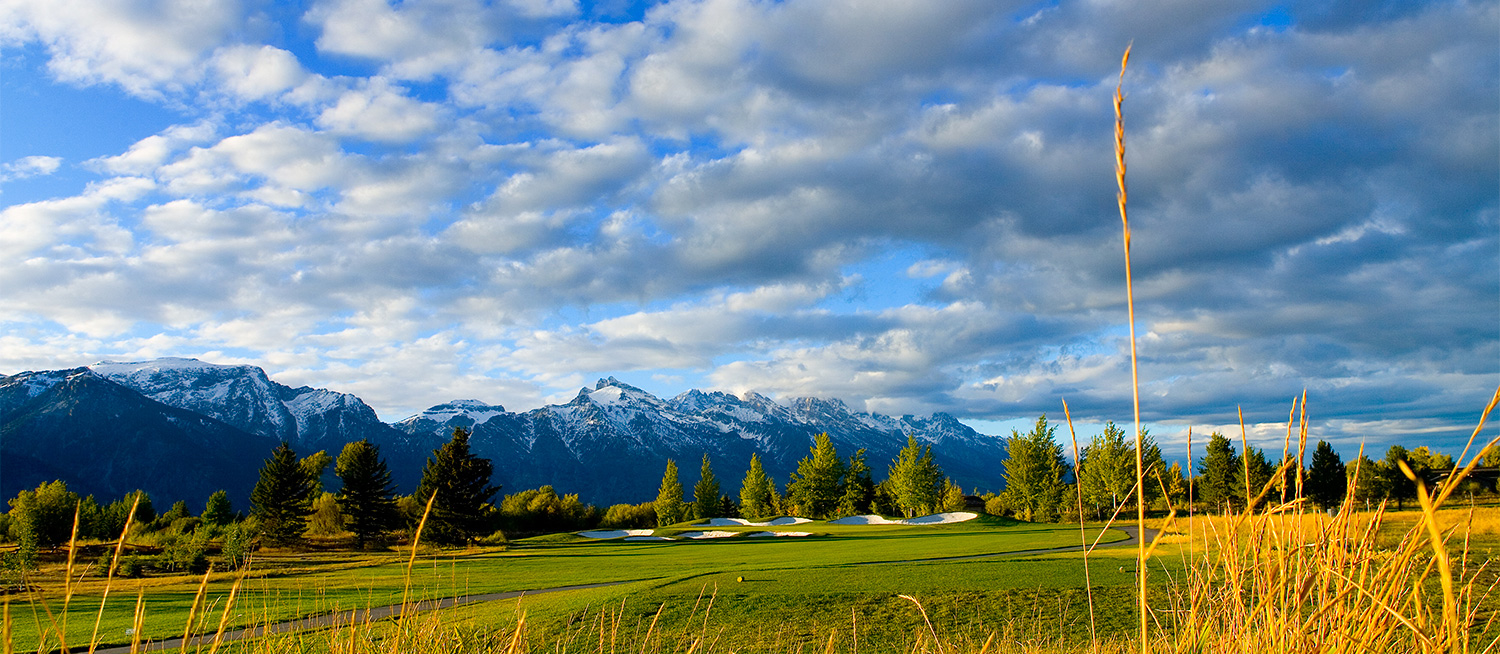 While Jackson Hole is known by many for its world class skiing and wondrous mountain views, those who enjoy the warm weather pastime of golf, know that it is home to some of the most beautiful and well manicured courses in the country. Although most of the courses situated in the Jackson Hole area are private clubs, several do offer public play in addition to their membership status. The incredible mountain views and western scenery make for great golf but these courses also are home to nearby equally stunning and sought after real estate.
The Courses
We have gone through each course in the area, with a few on the other side of Teton Pass in Idaho and Alta, WY, to dissect what makes each course, their other amenities and surrounding real estate great, as well as providing important details for those that are interested in visiting or looking into the golf course real estate in the Jackson Hole area.
See the chart below for a brief overview/comparison of all of the private clubs in the area.
Click on the name of the course or the "Learn More" button for a more detailed overview of each course.
Course / Development
Access
Holes / Yards
State
Location / Drive
Time From Jackson
Architect
Tennis
Memberships
Full Course Overview

Snake River Sporting Club

Private
18 / 7,500
WY
S. of Jackson /18
Miles south of
Jackson / 30 min.
Tom Weiskopf
Yes
Available

Learn More

Teton Pines

Private Club –
Public Play Allowed
18 / 7,412
WY
Wilson Area / On
Access Road to JH
Mtn. Resort – 15
min. from Jackson
Arnold Palmer
Yes (Year Round)
Waitlist – anticipated
availability in Spring of
2022

Learn More

Shooting Star

Private
18 / 7,550
WY
Teton Village – base
of JH Mountain Resort
Tom Fazio
Yes
Waitlist – purchaser's
of real estate can
purchase the
membership from the
seller to avoid wait

Learn More

Jackson Hole Golf & Tennis

Private Club –
Public Play Allowed
18 / 7,409
WY
North of Jackson –
drive time of 15 Min.
Longer to Ski Area
Robert Trent Jones Jr.
Yes
Available

Learn More

3 Creek Ranch

Private
18 / 7,700
WY
West of Jackson – 5
minute drive to Jackson
Rees Jones
Yes
Estimated One-year waiting list

Learn More

Bronze Buffalo Sporting Club
at Teton Springs
Private
18 / 7,373
+ 9 Hole Par 3
ID
Teton Valley, ID –
approximate 30
minute drive
Gary Stephenson /
Steve Jones / Byron Nelson
Yes
Available

Learn More

Tributary

Private
18 / 7,700
ID
Teton Valley, ID –
approximate 45
minute drive
David McLay-Kidd
No
Available

Learn More
---
Public Courses
The Jackson Hole Valley, east of the Teton Range has no fully public courses; however, just on the other side of Teton Pass there are three great courses that are easily accessible from Jackson and have very reasonable greens fees.
The Targhee Village Golf Course is accessed by driving over Teton Pass and is a favorites of locals on both sides of the pass looking for a relaxed golfing experience. The course is has a wide open layout, with fairways often being separated from each other by scattered conifers. Greens fees are reasonable, with walkers paying $18 and those opting for a cart paying $29. Notably, this property recently sold, but is under covenant to remain a golf course / open space area, so play at Targhee Village Golf Course will continue!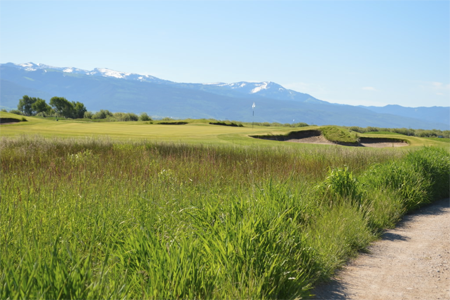 Teton Reserve was originally designed as a private resort development center around a Hale Irwin-designed 7,426 championship course. However, the plans for Teton Reserve were thwarted by the recession beginning in 2007 and was ultimately sold off in phases to various investors. The course is now operated as a public course that is owned by the homeowner's association of the platted development. Ownership of the surrounding real estate includes developers that are building homes both on a speculative and contracted basis. Presently, homes in the 1,500 to 2,400 SF range are noted to be offered in the $590,000 – $800,000 range. Teton Reserve is located approximately 5 miles north of Victor, ID and is an estimated 40 minute driving time from Jackson.
The Links at Teton Peaks was designed as a public course with no ties to a particular residential development. Golfers can choose between 12 and 18-hole options and choose to golf with or without a cart. The links was built as an 18-hole target golf course. Located approximately 3.5 miles east of Driggs, it can be easily accessed by driving east on Bates Road and then heading north on County Road N 4000 W. Approximately 35 miles 50 minutes from the center of Jackson. Real estate in the area is largely comprised of larger-tract private land holdings and is a mix of residential and agricultural uses.
Jackson Hole Golf Course Real Estate Listings
For more information about real estate around any of the above golf courses in the Jackson Hole area feel free to reach out to partner Andy Cornish to learn more, even if there are no active listings in your desired area Andy will work with you to research additional inventory and off-market private party listings or be able to keep you up to date as properties become available.